Hypnotherapy Training /Hypnotherapist CPD
Welcome to Hypnotherapy Training - Uncommon Knowledge
Uncommon knowledge is a repository of information collated from many years of successful practice.  They are, I feel, one of the UK's leading providers of training in all things hypnosis and hypnotherapy. By following the link at the bottom of this page you will find courses to suit whatever it is you are wishing to learn. From hypnosis to psychology. Or if you are already a practitioner there are comprehensive CPD courses providing information how to treat presenting issues such as PTSD, depression or stop smoking packages, uncommon knowledge has a full repertoire. 
If you are looking to treat a number of presenting issues, i.e. panic attacks, gain confidence, lift depression et cetera then uncommon knowledge also has a number of online courses which may be of interest to you.
The very best way to access all the materials is to subscribe to Mark Tyrrell's newsletter and receive a free e-book on re-framing, in pdf format – 'New ways of seeing'.  His emails are full of great therapy tips which you will enjoy and will add value to your practice.
Simply click the book to follow the link to Mark's Therapy Skills page: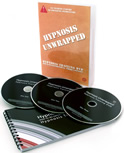 The unique, world first, hypnosis workshop in your own home!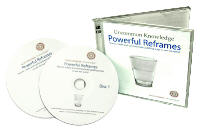 (Double CD)
The Powerful Reframes Double CD enhances your reframing skills with our comprehensive reframing training program